Traditional Route
---
From Jammu: How to Reach Amarnath Holy Cave:
A. JAMMU - PAHALGAM - HOLY CAVE
Jammu to Pahalgam (315 km) - The distance between Jammu to Pahalgam can be covered by taxi / buses which are available at Tourist Reception Centre, J & K Govt., Raghunath Bazaar only early in the morning. Another option is going to Srinagar by air and then proceeding to Pahalgam by road.
PAHALGAM - HOLY CAVE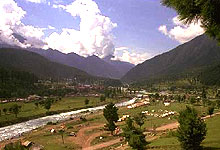 PAHALGAM
Situated
96 Kms
from Srinagar, Pahalgam is known all over the world for its beauty. Lidder and Aru Rivers and high mountains kiss the valley. Good Hotels are available for accommodation. Arrangements for free Langars (food kiosks) are also made by
Non Government Organisations at Nunwan Yatri Camp, 6 kms. short of Pahalgam. Pilgrims camp
at Pahalgam for the first night.
CHANDANWARI
The distance from Pahalgam to Chandanwari is
16 kms
. Mini buses run from Pahalgam to reach Chandanwari. The trail runs along the Lidder River with a fabulous scenic view. There are many Langars that offer food to the Yatris.
PISSU TOP
As the Yatra proceeds further from Chandanwari one climbs a height to reach Pissu Top. It is said that to be the first to reach for darshan of
Bhole Nath Shivshankar
, there was a war between Devtas and Rakshas. With the power of Shiv, devtas could kill the rakshas in such large number that the heap of their dead bodies resulted in this high mountain.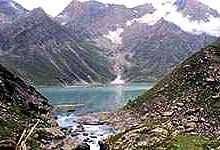 SHESHNAG
Sheshnag – is actually a mountain which derives its name from its Seven Peaks, resembling the heads of the mythical snake. The second night's camp at Sheshnag overlooks the deep blue
waters of Sheshnag lake
, and glaciers beyond. There are legends of love and revenge too associated with Sheshnag, and at the camp these are narrated by campfires. The stillness of the Himalayan night increases your inner joy. Once you take bath and enjoy the scenic view, life takes a whole new meaning altogether.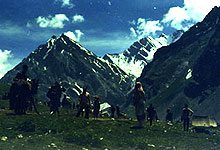 PANCHTARNI
From Sheshnag one has to climb a steep height across Mahagunas Pass at 4276 mtrs.(14000 ft) for
4.6 Km
and then descend to the meadow lands of Panjtarni at a height of 3657 mtrs (12000 ft). Due to cold harsh winds it is strongly recommended that Yatris should carry their quota of Woolens and Vaseline! Some Yatris are also affected by
deficiency of oxygen
. Some may get the feeling of nausea. Dry fruits, sour and sweet eatables like Lemon appear to control these symptoms but it is best to contact the nearest medical post immediately. The route to Mahagunas is full of rivulets, water falls and springs. At Panjtarni, at the feet of
BHAIRAV MOUNT
, Five Rivers flow which apparently originated from
Lord Shiva's Hair
(Jataon). Pilgrims camp at Panjtarni on the 3rd night.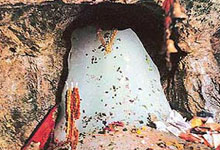 THE HOLY CAVE SHRI AMARNATH
On the way to
The Holy Cave
, one comes across the Sangam of Amravati and Panjtarni rivers. Some pilgrims take bath at Amravati near the Holy Cave before going for Darshan. There are two smaller Shivlings one of Maa Parvati and other of Shri Ganesh. It may be noted that after having early Darshan of the
Shiv Linga
at
Holy Cave
, one can return to Panjtarni well in time the same day.
JAMMU-BALTAL-HOLY CAVE
Sonamarg-Baltal
From Jammu, one has to go by road to Srinagar and then to reach Baltal via Sonamarg.
Baltal- Holy Cave
This is a 14 km. steep trek – one way. Only the very fit can go and come back the same day after trekking for 28 kms. It is possible to hire ponies or palkies. Baltal is, more popular because of its shorter distance.
B. JAMMU - BALTAL - HOLY CAVE
The distance between Jammu and Baltal can be covered by Taxis / Buses available at Tourist Reception Centre, J & K / bus stand or one can come to Srinagar by air and then reach Baltal by road. The road route followed is:
JAMMU - Udhampur - Kud - Patnitop - Ramban - Banihal - KaziGund - Anantnag - Srinagar - Sonamarg - Baltal
The journey from Jammu to Baltal, which is about 400 kms, passes through beautiful valleys, waterfalls, and greenery all over gives you a new lease of life. A thrill, which is obviously there in every pilgrim, gets enhanced while passing through this way owing to the Darshan of Holy Cave.
Baltal to Holy Cave
Holy Cave is just 14 Kms from Baltal and the distance can be covered by foot / Ponies. However, Dandies are also available for handicapped and old aged pilgrims.
The width of the pebbled (kuchha) road is a bit narrow as compared to the Chandanwari-Holy Cave route, moreover, there are some steep rises & falls on the way, as compared to the Chandanwari route, but pilgrims can return back to base camp Baltal through this route only in one day.